Integrated Charting in the Adaptable Blotter​
We are delighted to announce that we have just released integrated Charting into the Adaptable Blotter. Through a partnership with , the Adaptable Blotter - the market-leading HTML5 DataGrid solution - now allows its growing user base to switch effortlessly between charting and table views. Charts can be created by developers at design-time and shipped with the Adaptable Blotter or built by users at run-time (and then shared immediately with colleagues). And they are all 'live' so will update automatically as the underlying grid data ticks.​
Adaptable Blotter Wins Top FinTech Prize​
The Adaptable Blotter, from FinTech start-up Adaptable Tools, has been voted top technology innovation by Europe's leading banking professionals. The Adaptable Blotter took top spot in the Dragon's Den session for up and coming financial technology at the Fixed Income Leaders' Summit held in Amsterdam on 6-8 November 2018. John Greenan, industry expert and one of the summit dragons commented: It's great to see technology that enhances operational and developmental productivity through excellence in design and implementation. Adaptable Tools won the Dragon's Den session and will continue to win for their clients. Adaptable Tools CEO, Danielle Nagler added: We're delighted to get this vote of confidence in the Adaptable Blotter. It was pleasing that so many financial industry leaders recognised how the tool enables our users to be productive and efficient, eliminates huge waste and duplication in existing processes, and offers full standardisation across the financial desktop.​
Today we released the latest monthly update to AdaptableBlotter.JS, our industry-leading HTML5 DataGrid add-on. The new version is 2.0 to reflect that the product is entering its second year. The Release contains many new features and enhancements including: User Interface The Dashboard can be minimised, or hidden entirely, in order to save screen real estateMultiple column sort implemented for HypergridNew BEM-based CSS Style architecture giving you complete control over the look and feel of every element in every screen"About" function providing an "at a glance" view of Blotter properties and data'Finish' button added to wizard to make it easier to edit exiting itemsLegend added to wizard header, so clear where in the Wizard the user currently is'Select All' option in the Column Header menu Layouts Can now create new layouts from scratch or based on an existing layoutNow include Sort Order – with multiple sorted columns availableNow include option to include Vendor specific information (e.g. column widths, grouping info)Improved GUI to make it easier to edit and select layouts Server Search New feature allowing you to perform searching and/or filtering on the Server instead of the ClientCan specify which Search functions will take place on Server and which on ClientNew 'DataSource' function which allows you to provide lists of Books / Stored Procs which when selected by the User will trigger a new dataset Developers Powerful new API allowing full programmatic runtime access to all Adaptable Blotter objects and functions. Adaptable Blotter download file now includes source-maps to facilitate debuggingConfiguration allows you to specify which Toolbars and Toolbar Buttons are available and which are visible at start-upNew Configuration option to specify permitted values for a columnCan now specify an existing CSS style to be used instead of building the style through the GUI – used in Conditional Style and Quick SearchImprovements to how config is supplied to the Blotter – can now use either a file or a JSON block​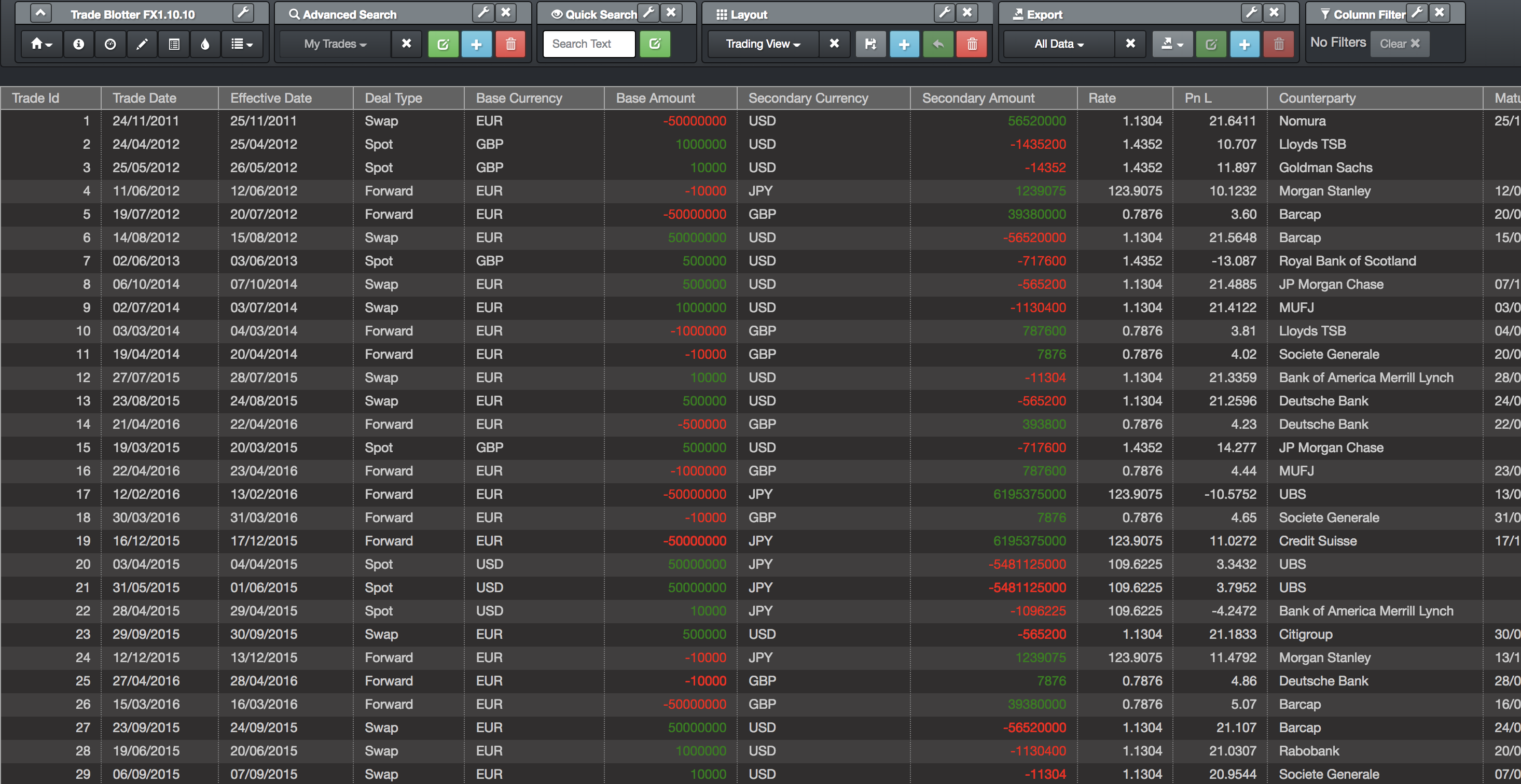 Adaptable Blotter is One Year Old​
In just 12 exciting months AdaptableBlotter.JS has become firmly established as the most powerful and feature-rich HTML5 datagrid add-on in the market. Heartfelt thanks to our growing list of clients - in banks, FTSE100 companies, software houses and elsewhere - for making AdaptableBlotter.JS the industry-standard "out of the box" HTML5 datagrid solution. The unparalleled range of cutting edge functions let you search, edit, filter, export, share, aggregate and style your data in ways not previously possible. But we're not resting on our laurels; we continue to add exciting, new functionality that helps our users be more efficient and productive. Keep your eyes peeled for all the new features coming in our second year including Charting, Server Edition, Voice Support, enhanced Symphony integration and much else...​
AdaptableBlotter.JS Version 1.4.0 Released​​
Today we released the latest version of AdaptableBlotter.JS. This release includes many new functions and features. Highlights include: Team Sharing function which allows you to share Blotter entities you have created (e.g. searches, edit rules, shortcuts, views etc.) with colleagues and team members via a single click. Column Information function enabling you to see at a glance all the items associated with a particular column, together with buttons to create / edit new ones. Extra functionality in Custom Filters so you can create your own ranges dynamically (e.g. > 15) and store them with your grid. New Format Column function providing the ability to style a column in a way that suits you. New look and feel for the Function Toolbars. Improvements to Smart Edit, Shortcut, Calendar and Advanced Search functions​
News From Adaptable Tools